Inhalt:
0.473 Liter (73,88 € * / 1 Liter)
inkl. 19% MwSt. zzgl. Versandkosten

Sofort versandfertig, Lieferzeit ca. 1-3 Werktage
Why Buy This Product? Bold and brilliant Hybrid V7 shine Blend of premium carnauba...
mehr
Produktinformationen "Hybrid V7 Optical Select High Gloss Liquid Wax Wachs 473ml"
Why Buy This Product?
Bold and brilliant Hybrid V7 shine
Blend of premium carnauba wax, optical select gloss enhancers, and synthetic sealant technology
Protects against fading and damage caused by pollution, contamination, UV sunlight, water spots, bugs, bird droppings, and more
Enhances deep wet reflection and brilliant glowing shine
Protects against contamination, pollution, and harmful natural elements
Shields paintwork, polished metals, glass, and clear optical plastics from the elements
Makes every paint color look its very best

About Hybrid V7 Wax
Detailing professionals and hardcore enthusiasts worldwide love the brilliant shine of Hybrid V7 car wash soaps and detail sprays. Now Chemical Guys expands the Hybrid V7 lineup to shield and protect vehicles against harsh elements with Hybrid V7 Optical Select High Gloss Wax. Hybrid V7 Wax blends the durable protective properties of natural carnauba wax with the Optical Select gloss enhancers that made Hybrid V7 a fan-favorite worldwide. Synthetic Hybrid V7 sealant technology extends the durability of the brilliant natural carnauba shine, and helps reject harsh UV sunlight, pollution, and contaminants that destroy shiny paint. That warm wet carnauba wax shine that enthusiasts have loved for over 100 years is getting even better in Hybrid V7 High Gloss Wax. The unique blend of grade A yellow carnauba, white carnauba, and optical select gloss enhancers make any paint color shine to its very limits. With a coat of Hybrid V7 Wax, warm hues like red, orange, and yellow glow and gleam like wet paint; cool colors like blue and metallic silver and gray shimmer with brilliant clarity; black and white reflect all light with unfettered purity; and glossy and metallic finishes show pure reflection, or highlight every individual sparkle flake. Detailing professionals and car enthusiasts everywhere have a new favorite go-to wax. Shine, enhance, and protect any paint color with the signature bold luster of Chemical Guys Hybrid V7 Optical Select High Gloss Wax.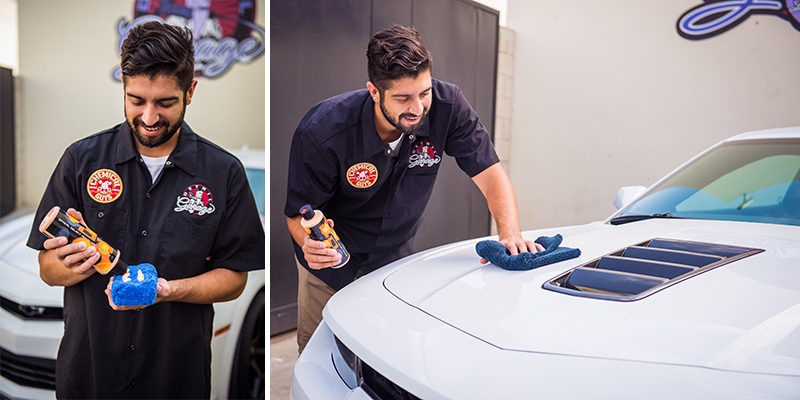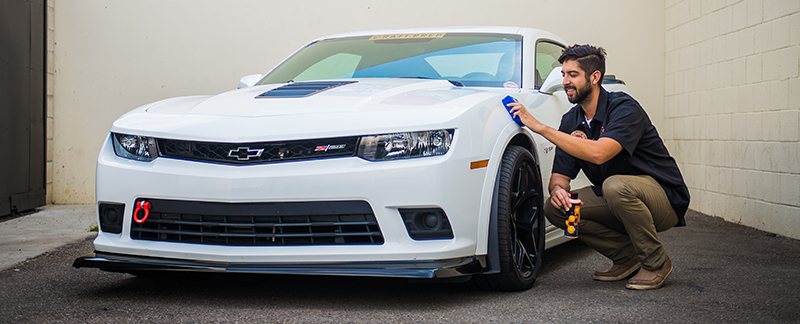 Optical Select High Gloss Shine
With a single spray, Chemical Guys shocked the industry by setting the new standard of glossy deep-wet shine. After many unsuccessful tries, the seventh formula surpassed all expectations, and Hybrid V7 Optical Select High Gloss Spray Sealant & Quick Detailer was born. Fans worldwide drooled over the intense depth and glossy shine wiped into paintwork with every spray of Hybrid V7. After years of R&D, Chemical Guys extended the same level of gloss and shine to the maintenance car wash steps with the introduction of Hybrid V7 High Gloss Car Wash Soap. Blending the same optical select gloss enhancers with premium car wash shampoo helps reduce swirls and scratches, and boost gloss and shine to full-detail levels with just a regular car wash. But now Chemical Guys has upped the ante once again with Hybrid V7 Optical Select High Gloss Wax. The premium blend of gloss enhancers, natural carnauba wax, and synthetic sealant technology enhances any car paint finish with extreme glossy shine, deep-wet reflection, and durable protection against the elements that destroy shiny paint over time.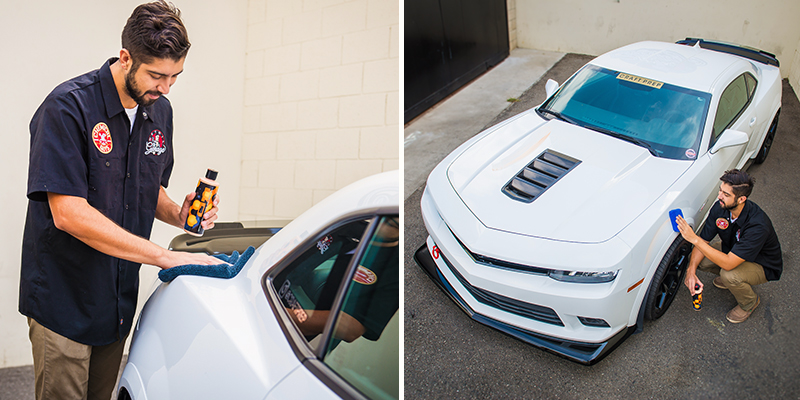 Durable Protection And Long-Lasting Results
We don't wax our cars just to make them look shiny; we wax our cars to protect them against the harsh elements. Pollution, dirt, insects, water, birds, and sunlight destroy shiny paint finishes over time, leaving them dull and faded. Hybrid V7 Optical Select High Gloss Wax is made with grade A natural carnauba: nature's toughest wax. This wax comes from the leaves of a plant in the rainforests of Brazil. The wax is nature's sunscreen; shielding the plant from harsh UV sunlight that would otherwise cook and burn it. Chemists copy and modify natural wax compounds in a laboratory to make them more durable for longer-term protection and shine. Hybrid V7 Wax is blended with synthetic wax sealant polymers to extend the protection and beautiful shine of the natural wax for months on end. Hybrid V7 Optical Select Liquid Wax it is unlike any other wax - it is a hybrid product that combines the look of a wax with the protection of a sealant. Reject pollution and contamination with Hybrid V7 Optical Select High Gloss Wax to enhance and maintain the shine of any car.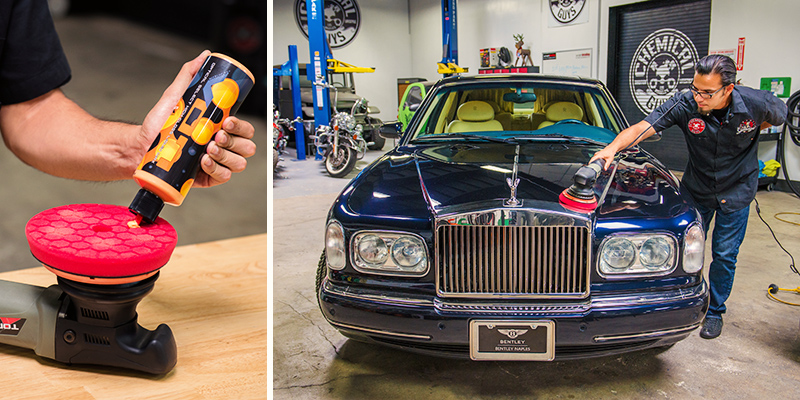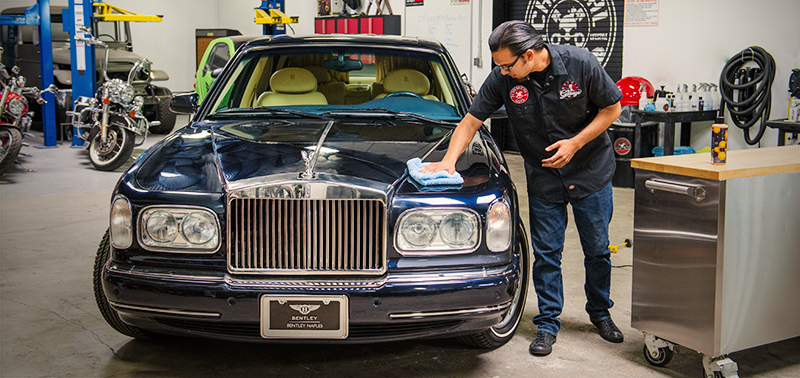 Versatile Wax Protection All Around The Car
Car wax is known for protecting and enhancing glowing shine on paintwork, but its protective properties extend far beyond shiny paintwork. Spread a coat of Hybrid V7 High Gloss Wax over polished metals like chrome, aluminum, and stainless steel to help prevent oxidation and tarnish caused by pollution and humidity. Placing Hybrid V7 Wax over the windshield and side windows helps repel raindrops and water, which decreases the need for wiper blades and increases visibility in inclement weather. Headlights are especially sensitive to the elements: fading and hazing up from harsh UV sunlight cooking the plastic. Regular protection with Hybrid V7 High Gloss Wax helps shield polycarbonate headlight lenses from damaging UV rays, and keeps them clearer for longer. Enthusiasts wax carbon fiber and polished engine bay and exhaust components, and even wheels to make every part shine its best for the car show. Professional detailers even bring Hybrid V7 wax inside the car to enhance parts like wood grain dashboard trim with a glowing wet shine everybody loves. Treat every shiny car part with the signature warm glow and lustrous shine of Chemical Guys Hybrid V7 Optical Select High Gloss Wax.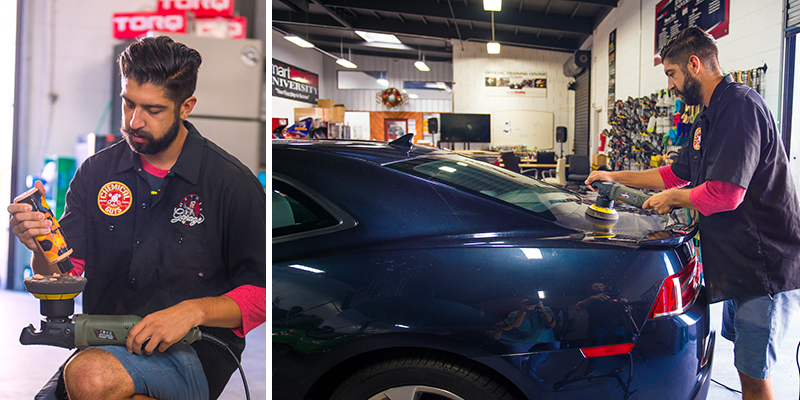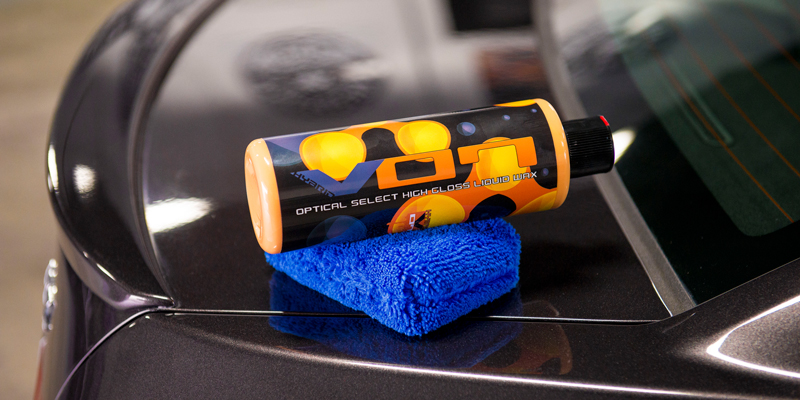 How To Use:
Wash car and decontaminate the surface with a clay bar
Shake Hybrid V7 Wax well
Spread a thin, even coat over the surface with a premium microfiber or foam applicator
Use Hybrid V7 Wax on shiny and clear exterior car parts, like paint, glass, clear plastic, and polished metals
Buff off residue with a soft microfiber towel
For machine application, place 4 - 6 dots of Hybrid V7 Wax on a soft foam finishing pad (like Hex-Logic Black pad,) and spread it over the car one panel at a time.
Only use a dual action polisher and do not exceed speed setting 3
Never spread glaze, sealant, or wax with a rotary polisher
Inhalt: 473ml
Weiterführende Links zu "Hybrid V7 Optical Select High Gloss Liquid Wax Wachs 473ml"
Bewertungen lesen, schreiben und diskutieren...
mehr
Kundenbewertungen für "Hybrid V7 Optical Select High Gloss Liquid Wax Wachs 473ml"
Bewertung schreiben
Bewertungen werden nach Überprüfung freigeschaltet.