Inhalt:
0.118 Liter (169,04 € * / 1 Liter)
inkl. 19% MwSt. zzgl. Versandkosten

Sofort versandfertig, Lieferzeit ca. 1-3 Werktage
Why Buy This Product? Hybrid motorcycle wax, gloss enhancer, and synthetic sealant...
mehr
Produktinformationen "Versiegelung Hyper Seal 118ml"
Why Buy This Product?
Hybrid motorcycle wax, gloss enhancer, and synthetic sealant
Protects all shiny and clear motorcycle parts with a brilliant shine
Shields plastic fairings and clear windshields from fading in harsh UV sunlight
Helps repel pollution, industrial contamination, water spots, insects, bird droppings, and more
Shines and protects motorcycles for up to one full year
How It Works
Chemical Guys Redline Hyper Seal takes motorcycle protection and shine to levels and durations never seen before. The hybrid compound blends optical select gloss enhancers with pure carnauba wax and synthetic protection polymers. Redline Hyper Seal enhances a brilliant wet shine, repels contamination, pollution, and water spots, and protects motorcycle paintwork and colorful plastic fairings from fading and discoloring in the sun. The blend of durable protectants helps the brilliant shine of Redline Hyper Seal last for up to one full year with just one application. Natural carnauba wax is celebrated for its unique protection capabilities and signature look, so Redline is made only with 100% grade A carnauba for superior bond, warm glow, and wet shine. Chemical Guys master blenders enhanced the natural carnauba with synthetic sealant polymers and compounds to boost the durability of the protective shine from a few months to up to a full year. Bright plastic motorcycle fairings are especially sensitive to fading and crazing from exposure to harsh UV sunlight and weather. Redline bonds to the plastic and helps repel harmful UVA and UVB rays that degrade, fade, and oxidize clear and colored plastic motorcycle fairings and windscreens. Push motorcycle protection and shine to the ragged edge with Chemical Guys Redline Hyper Seal.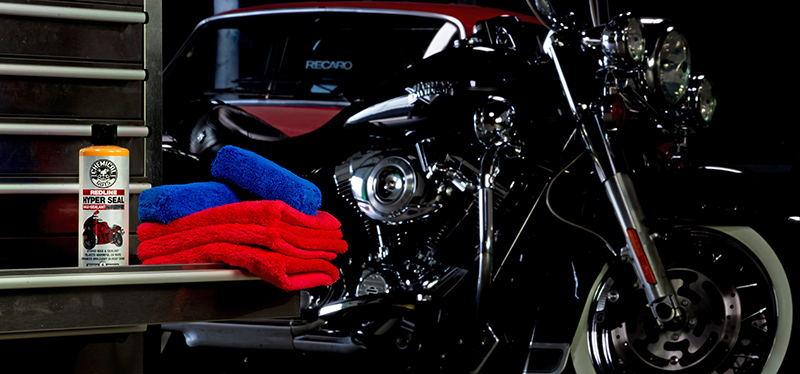 Extreme Protection For Extreme Machines
Redlining is pushing a machine to its very limit. Pistons, cranks, and chains are only designed to spin and work up to a certain speed… Beyond this upper limit of performance and power, things break, shatter, and explode. Redline Hyper Seal protects extreme street and offroad machines against the most punishing elements. Blistering heat, bitter cold, buffeting wind, pelting water, intense sunlight, and industrial pollution all take their toll on bright and shiny motorcycles. Contamination, oxidation, and tarnish ruin the pure reflection of glossy painted finishes, bright plastic fairings, and clear windshields. Redline Hyper Seal seals shiny paintwork, glossy plastics, and polished metals so pollution, water spots, and road grime just slip right off. Specialty UV inhibitors block and repel harmful UVA and UVB rays that fade, discolor, and crack bright plastic fairings and clear motorcycle windscreens. Redline Hyper Seal is formulated with pure natural carnauba wax boosted with synthetic protection polymers for extended protection even around hot motorcycle engines, exhausts, and structural components. Max out protection, shine, and brilliant reflection on any race, street, or offroad motorcycle with Chemical Guys Redline Hyper Seal.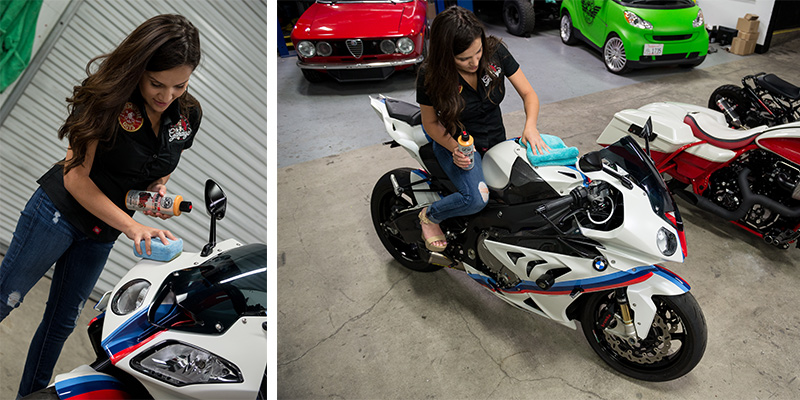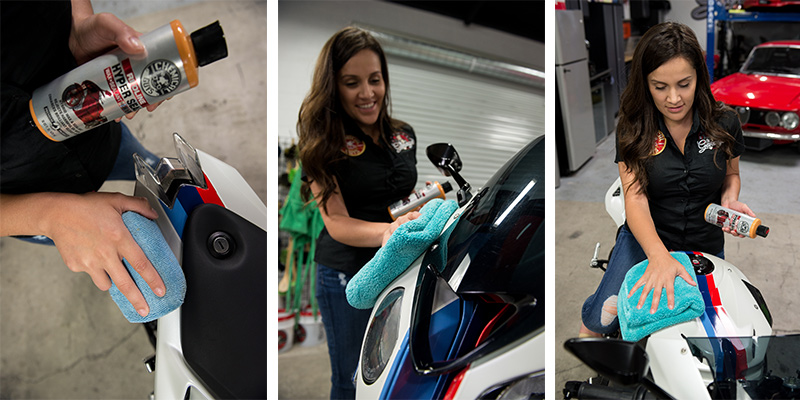 Brilliant Shine For High Visibility
Motorcycles aren't painted bright colors just because they look good that way. Cycles are smaller than cars and harder to spot while out on the open road. Bright and vibrant colors stand out against asphalt, concrete, and the landscape, giving riders a better chance of riding without being hit. Cleaning and maintaining a brilliant shine becomes a matter of trouble-free riding. Redline Hyper Seal makes detailing any motorcycle an easy process. The pure Brazilian carnauba wax and full synthetic gloss enhancers make any color pop with a warm glowing wet radiance. Polished metals gleam and glimmer with pure reflection and bright shine. Specialty UV inhibitors block harmful rays from discoloring and fading bright plastic fairings, carbon fiber weaves, and clear plastic windshields and indicator lenses. Easily maintain a brilliant glowing shine that nobody can miss with Chemical Guys Redline Hyper Seal.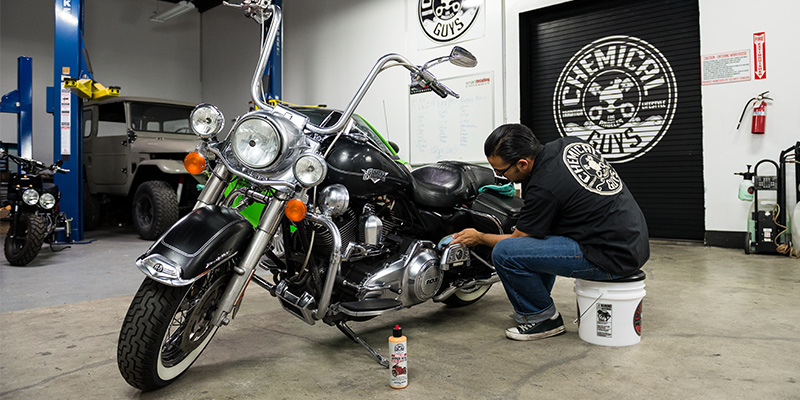 An Ounce Of Prevention > A Pound Of Cure
What's more expensive than a coat of motorcycle wax? Replacing every fairing because the sun bleached them white! Brightly-colored plastic fairings and aerodynamic treatments are notorious for fading in bright sunlight. Harmful UVA and UVB rays distort and fade bright colors found on motorcycle parts, and cause microcracks that lead to premature wear and failure. Chemical Guys Redline Hyper Seal shields and protects plastic fairings to lock in the rich color and pure reflection from the factory. Plastic parts sealed and protected with Redline last longer with better clarity and reflection than untreated parts. Redline's sealant properties also protect paintwork and polished metals from the ravages of natural sunlight, airborne pollution, and even wear from wind and water. Sealed surfaces are easier to clean since dirt and grime have a harder time adhering to the slick finish of Redline. Weekly motorcycle washes take less time, product, and energy on bikes protected with Redline Hyper Seal. Smarten up: shield, enhance, and protect motorcycles with Redline Hyper Seal and spend less time fixing damage caused by the elements over time.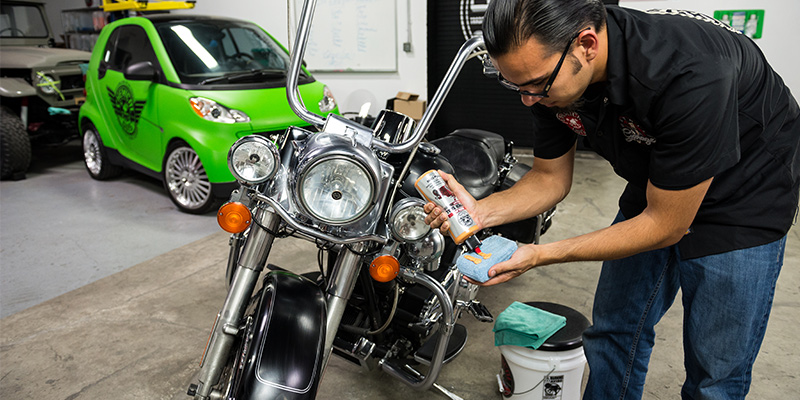 Formulated For All Motorcycles And Offroad Quads
The Chemical Guys Motorcycle Line of detailing products is designed and blended for use on all types of cycles and quads. Clean, restore, and protect any street bike, racing motorcycle, competition bike, vintage cycle, custom chopper, touring bike, supermoto, motor trike, mini and pocket bikes, motor scooter, offroad dirt bike, quad bike, dual-sport/adventure motorcycle, ATV, and even bicycles with the full lineup of products from Chemical Guys. All cycles operate in similar conditions, and are built with similar materials across the board. The full Chemical Guys Motorcycle Line of products addresses every cleaning and detailing need for all these materials on these machines. Clean, shine, and protect any cycle anywhere with the Chemical Guys Motorcycle Line.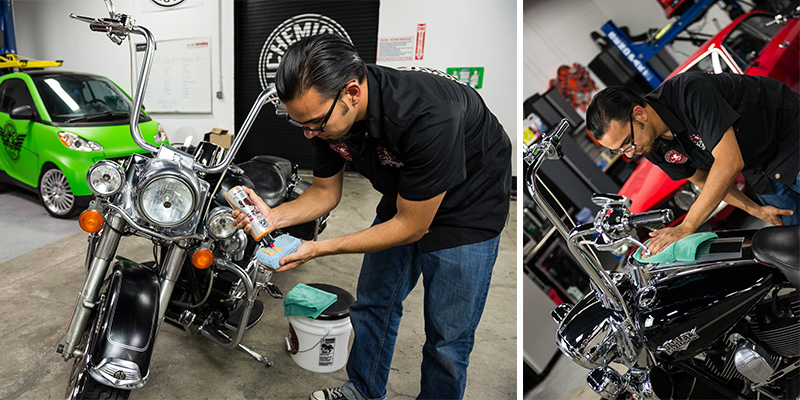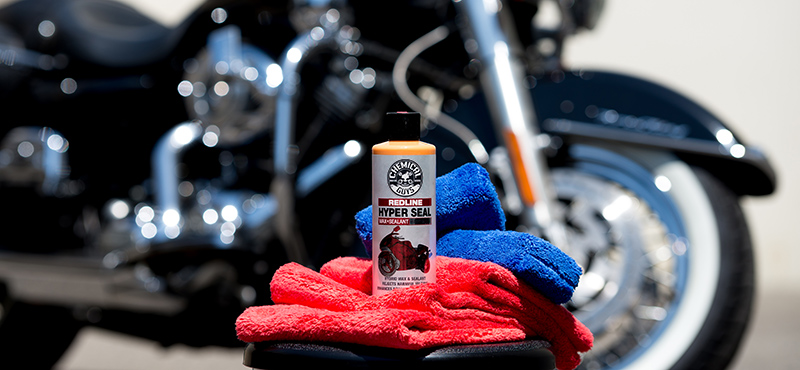 How To Use:
Squeeze 1 - 3 lines of Redline Hyper Seal onto a premium foam or microfiber applicator pad.
Spread over paintwork, glossy plastics, clear plastics, glass, carbon fiber, and polished metals in a thin, even coat.
Redline will bond with clean surfaces within 15 minutes.
Buff off residue with a premium soft microfiber towel.
Once removed, allow 20 minutes cure time and apply a second layer to ensure even coverage.
Inhalt: 118ml
Weiterführende Links zu "Versiegelung Hyper Seal 118ml"
Bewertungen lesen, schreiben und diskutieren...
mehr
Kundenbewertungen für "Versiegelung Hyper Seal 118ml"
Bewertung schreiben
Bewertungen werden nach Überprüfung freigeschaltet.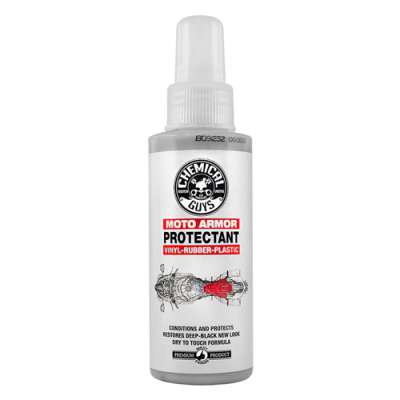 Moto Armor Gummi- und Kunststoffschutz / Pflege...
Inhalt
0.118 Liter
(75,84 € * / 1 Liter)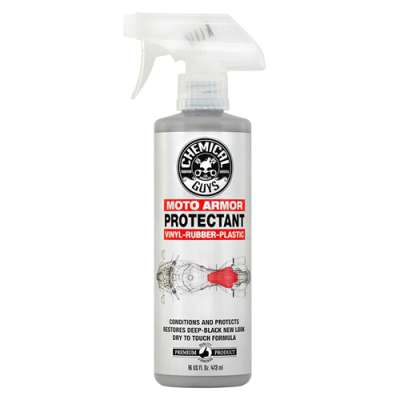 Moto Armor Gummi- und Kunststoffschutz / Pflege...
Inhalt
0.473 Liter
(35,83 € * / 1 Liter)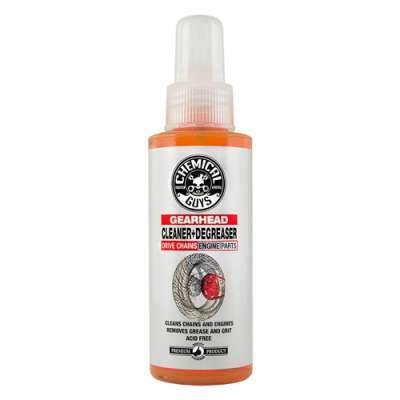 Gearhead cleaner degreaser Reiniger & Entfetter...
Inhalt
0.118 Liter
(75,84 € * / 1 Liter)